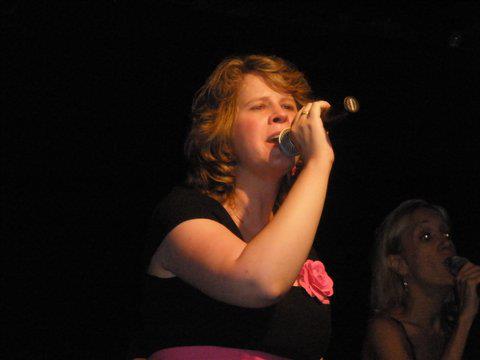 Carolyn Kiel has always been comfortable behind a microphone.
She's a singer, a member of an a cappella group and the creator of the Beyond 6 Seconds podcast.
As the podcast host, Kiel interviews everyday people doing extraordinary things. The subjects share career and entrepreneurial journeys, and stories of overcoming obstacles to build meaningful personal and professional lives.
Her hosting "side hustle" is now 120 episodes strong and growing.
In Kiel's full-time role as a learning design manager at a large telecommunications company, she creates educational training resources for employees. Her own career has been a broad education – she's previously held roles in financial services, enterprise risk management and data and information governance.
While supporting big cross-functional projects in a prior role at Mastercard, she became intrigued with the internal communications and training aspects of the job and decided to segue her career into learning and development. 
"Anytime you have something that's brand new, you need to communicate to your audience what this is, how does it impact them, what they need to do differently, what's going to change," Kiel notes of her interest in the work. 
The pivot wasn't instantaneous. It took a lot of volunteering and networking to get the experience and meet the connections necessary to make the move into training management.
That job search, largely on LinkedIn, would lead her to Beyond 6 Seconds, although she didn't realize it at the time.
"I wound up in conversations that aren't necessarily all related to business," Kiel says of her many networking conversations. "I learned about these amazing things that people have done in their lives."
What type of things? Like experiences in the Navy or working on drones or creating a business that makes spoons for people with fine motor coordination disabilities. The subject matter was endless and endlessly interesting.
"I felt like there were so many amazing stories," she recalls. "I thought if I could provide a platform for people and interview them, it will help them share the wonderful things that they're doing."
"I wanted a creative outlet in my life like singing, but one where I could direct and own the entire creative process."
She thought about a podcast. But while she was familiar with recording and audio editing equipment, she knew nothing about podcasting itself. Where to start? How to start?
"Every day I would teach myself a little something new," Kiel says of the month she spent late in 2017, reading up on hosting and distribution services and the robust business of launching a podcast. 
Her first six recordings intentionally featured guests she already knew.
"I figured if I screwed up something in the recording they wouldn't be mad because they were my friends!" Kiel explains.
Beyond 6 Seconds launched in January of 2018. The podcast's name comes from a well-known theory that recruiters look at a resume for a mere six seconds before making a judgment call about a candidate. 
"My show is about giving people a longer platform, going beyond that six-second first impression to give people the time to share their story," she says. "We go beyond the quick first impression into the story itself."
The show "took off" after her first few interviews, with friends and listeners offering suggestions of future guests. It's a platform for all types and each episode features a single subject's stories of transformation, struggle, and success.
(Full disclosure: Carolyn and I share a love of stories and in December 2018, I joined her for a non-traditional episode in which we interviewed each other and shared career storytelling strategies. You can listen to it here!)
"Stories are one of the most compelling ways we can make connections and communicate information in a way that's memorable."
"Hearing somebody's story gives more context and credibility to their advice," says Kiel. "They share the obstacles they overcame and what they learned along the way. It's educational but it's also entertaining to hear stories."
Her own story is very much about how Beyond 6 Seconds fulfills her in a way that's different from the satisfaction she gets from her full-time job. She offers advice for others who are looking to establish their own creative outlet.
"
T
hink about what kind of issues, topics, or areas you care about and how you can use your skills and strengths to make an impact," she says. "T
hese things evolve. It doesn't have to be perfectly crafted right out of the gate. 
Don't get too worried about launching
something that's super polished at first because you'll get better as you practice it
."
Kiel says she'll continue to find and present stories of ordinary people doing extraordinary things while sharing her own story – and the story of Beyond 6 Seconds – as well.
"Everyone wants to share their story and apparently everyone wants to be on a podcast!" she laughs. "So it gives me a great excuse to talk to people and a great excuse to get to know people better too."
You can read about Carolyn's podcast, subscribe to the Beyond 6 Seconds newsletter, and listen to all episodes at: http://www.beyond6seconds.net.
PROFILE: Carolyn Kiel, Learning Design Manager and Host, Beyond 6 Seconds podcast
TITLE OF YOUR CURRENT CHAPTER:  "Voicing My Creativity"
MOTTO TO LIVE BY: "You are capable of amazing things."
HOW DO YOU GET UNSTUCK: Taking a walk or sharing my thoughts with a good friend.
WHAT ADVICE DO YOU HAVE FOR OTHERS WHO FEEL STUCK OR UNINSPIRED? Don't be afraid to try new activities, even if they feel uncomfortable or awkward. You may discover a new interest or hidden talent!
Liked this article? Click to read other inspiring Next Chapter profiles.